More difficult Indycars will suit Alonso better at Indy 500 – Mears – IndyCar
Get unlimited access
You have only 5 articles remaining to view this month.
American racing legend Rick Mears says Dallara's new, more difficult Indycar will suit McLaren's Fernando Alonso better in his second Indianapolis 500 attempt in 2019.
Alonso led laps in his first Indy 500 back in 2017, driving an Andretti Autosport-supported McLaren entry, before an engine failure ended his hopes of being a factor in the race-deciding laps.
The two-time Formula 1 world champion adapted quickly to the car in the Month of May, and was helped by the Andretti team's dominance at the track during the downforce-heavy manufacturer aerokit era.
The new-for-2018 Indycar has drastically less downforce and this year's Indy 500 was more like a single-file style event than a pack race, with the lack of aero grip leading several big names to spin out and crash.
But Mears does not think the radical change will affect Alonso, who has driven the new car in its road-course spec.
"I actually think the current cars will suit him better," Mears told Autosport.
"From listening to our drivers and others, this car gives better feel, better feedback, which should help someone with less experience.
"Yes, it's harder to drive now, more twitchy, more difficult in traffic, and so on.
"But Alonso is one of the great racers: he's like a Mario [Andretti], Parnelli [Jones], AJ Foyt – you know he's going to step into any racecar and be quick."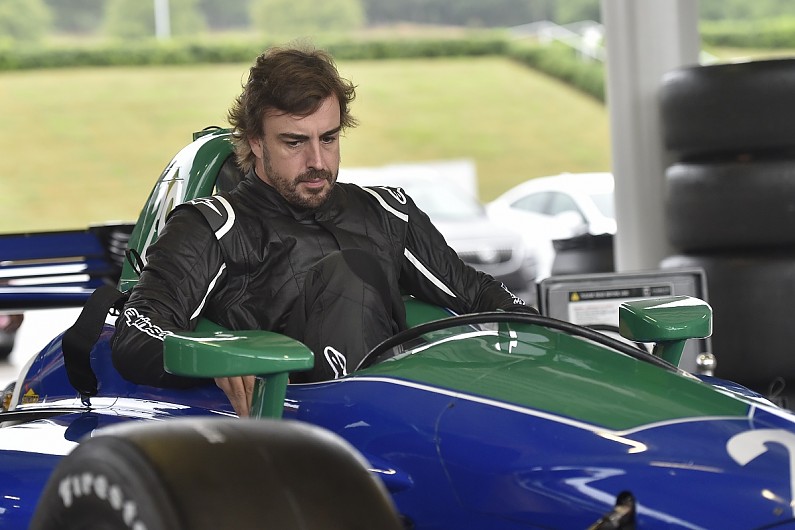 Mears believes the current Indycar package requires more driver input than its predecessor, which will help Alonso.
"It's fair to say these cars put the performance back into the drivers' hands," he said.
"So, that's always going to work in favour of the top drivers, and Alonso is a top driver. It's that simple."
Mears serves as an Indy 500 spotter for Penske's Helio Castroneves as part of his wider role at Penske, and said he was impressed by Alonso when he watched him from his vantage point during practice in 2017.
"He was on a steep learning curve," said Mears.
"During practice, Alonso was putting his car into some interesting places, finding out what was possible and what wasn't, learning the draft and when to pull out.
"There were a couple of times watching him when I thought, 'Uh-uh, don't do it there!' and sure enough, he'd left himself enough margin to back out of it.
"That told me he was thinking as well as driving.
"The thing is, you only discover things – or the worthwhile things – if you go looking for them.
"That was why he was going up near the grey sometimes, or making a late pass, or figuring out how to let the guy behind draft past him sometimes on the outside, sometimes inside, and then doing the same thing to re-pass the guy.
"What looks from the outside like you're taking a chance, a risk, is actually something you tried in practice already."